Check out how this YouTube ad starts by saying, "It's a fact that in this new economy, people are becoming millionaires much faster and easier than before. But how are they doing this? Oh, by the way, this ad was published by none other than Jeff Lerner…lol. He then says that according to the news, the whole world will flip upside down trying to find this answer, but Jeff thinks he has it. So he tells you to stick around to get the million-dollar answer, but if you are not interested, you can skip to the end of the video.
NEXT: You Won't Become A Millionaire Doing This, But It'll Pay Your Bills
Ok, so if you decide to stay, the video ad you are watching starts back up in the middle of the desert, and Jeff takes the time to introduce himself again. He then continues by saying he had a very unusual path to becoming a millionaire. For example, he says, "I didn't slave away 9-5 for 40 years like most people. Also, I didn't max out my 401(k), waiting patiently for compound interest to kick in. Oh, and I didn't invent anything either." Jeff says that he took a massive shortcut that few people know about. This shortcut is on the internet, and he was able to generate 50 million dollars from it…this is insane…right? Here's the pitch he's making,
Jeff says that for a limited time, he will share his secrets with everyone through a book he published called The Millionaire Shortcut. And Jeff promises that the material will be 100% free without strings attached. Jeff then says, "It's going to be one of the MOST powerful books you have read in a long time about how people working 9-5 have become millionaires fast in this new kind of economy." (whatever that means). So, I entered my email, hit the submit button, and was impressed after I went to the next screen… But I was actually annoyed….why?
Because this was nothing but a bait-and-switch funnel, I was taken to a video sales page. This page was nothing but a build-up without mentioning what the actual training will be about. These are the same old marketing tactics that got me so rattled up. After a lengthy sales pitch, I was pressured to buy the $39 training course with a countdown clock in the background. And I know they will be upselling when something is selling for so cheap initially. Anyways, I checked my inbox and found Jeff's book. This was a short PDF describing the million-dollar shortcut, which I will let you know right it….here it is…
To find someone who made a million dollars before and mentor and model them. Find out what they did and copy them…lol…what the hell…really? Oh, and another funny thing is Jeff is a millionaire, so who do you think he is going to say is the BEST mentor for you…lol. So, here's what I think,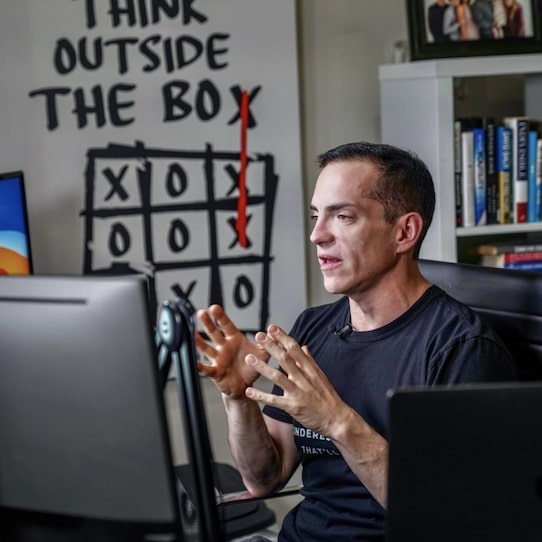 I believe Jeff can teach you about digital marketing, and he seems like a guy with experience, but the non-transparency kills it all…right? I mean, this is definitely a deal breaker. Look, in the end, if you have something special, then say you have something special, but don't promote something garbage as special. I have a good feeling that Jeff knows the sales funnel will suck people into a crappy PDF book to sell a training course (but he was dishonest about it in his ad). Also, it will help if Jeff can be more detailed about what you will learn in his course. And answer the basic questions like how will it make me a millionaire like yourself? And what can I expect after I purchase the course? With that said,
The bottom line is this; Jeff Lerner is an intelligent marketer because I believe if he were transparent about his crappy course, then he would NOT get back his ROAS (return on ad spend). Instead, he leaves people in the dark so people sign up, and he can make his money back. His training seems very basic, and if you are a beginner, you need someone holding your hand and showing you the ropes, which I know he won't be doing. So, if you want to learn how to kill it online and have someone walk you through everything, check out my favourite program by clicking the orange button.
ALTERNATIVE: Straight Talk About Our Simple Laptop Business