Every time you watch one of Tai Lopez's video ads, he says, "One book a week." However, he knows many people do not have time to read one book a week, so he created a company with his business partner, MentorBox. It's fascinating what these guys do because they turn popular books into video format, so they are faster to consume. MentorBox has New York Times bestselling authors, Nobel Prize winners, and Pulitzer Prize winners [all] teaching their books. Oh, we also have Warren Buffett! Ultimately, the more you earn, the more you will learn…right? Tai Lopez is known for his famous saying, "Give us seven minutes, and we'll change your life." 
NEXT: How To Start With Digital Real Estate
Now, MentorBox costs less than what you pay for Netflix. Tai Lopez says you will love what these guys are doing and says you should go and sign up for it right away. Oh, you can cancel anytime you want, so don't worry. Then Tai says, "It's important to get this knowledge in your brain because it's powerful. We make the entire process simple and make the material easy to remember. Ultimately, you will get one book in your brain in 7 minutes. Click the link in the YouTube video."
So, MentorBox costs $7 a month, which equals $59 for the year. With this subscription, you can access all the online short video courses from the authors. You also get audio versions, cheatsheets and workbooks too. Now, you can upgrade and pay $99 and get the physical box, including copies of the books and printed course material. It's important to mention that everything does come with a 30-day money-back guarantee. You can cancel your subscription by clicking on the link in your profile or through email support.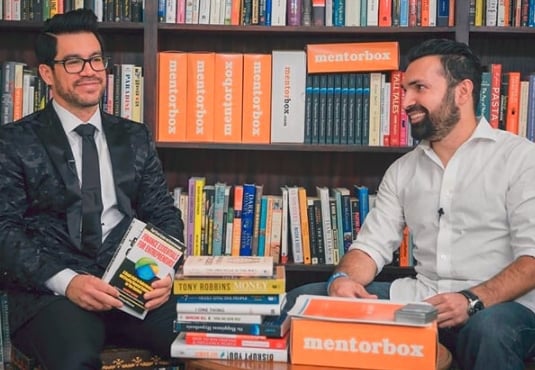 Personally, I think it will take much more than seven (7) minutes to change your mindset and achieve success. However, it's 7 dollars a month, and I'm sure you will get a lot of value sooner or later. But here is where I have to be super honest in my review,
I believe Dr. Alex Mehr and Tai Lopez got greedy and ruined a great thing they had going on. For example, when you buy MentorBox, everything is smooth, but they keep hitting you with one-time offers. This decreases the value of everything. Sometimes people want to be left alone…right?
The ads then keep lowering the price…for example, Tai says, "You want this training for $9.97..no? How about ½ price then…no? Act fast because this offer will not be around for a long time." If you ask me, these marketing strategies are all old, and I think they are full of BS. From my experience, if you are NOT careful, you can spend a lot more money, and I'm talking thousands of dollars. Even if you say No, you will keep being bombarded with emails offering other training courses and business opportunities after the next. Anyways,
I have noticed there are upsells everywhere, and I think that's what these guys are after when they hook you into the MentorBox training. I checked out Audible, and you can individually purchase the content you want, which would be much cheaper in the long run, and you can avoid the upsell emails…lol.
Here's my final point: we should avoid knowledge hacking by having people sign up for a subscription with 80% of the books the customer doesn't care about. Individuals would be better off reading the books they want to or which align with their current lifestyle. They should take their time and understand the material instead of listening to 1 book daily and not keeping 90% of the material inside their brains. I think this is way better than the MentorBox way. What do you think?
TRENDING: How To Rent Out Itty-Bitty Websites