These gurus want your money. I mean, think about how many webinars, books, seminars, and even masterminds they are all pitching so that they can be the next  Grant Cardone. You see, these guys want to be the next real estate tycoon and the easy way. Look, I have been around and can't stand the way they want to earn money every chance they get. But I will keep an open mind either way and talk about a guy named Kris Krohn and if you can trust him regarding real estate.

NEXT: Stop Making Kris Krohn Rich
Supposedly over the next 20 years, real estate is expected to outperform stocks, IRAs, 401(k)s, and others. I love Einstein's quote, "Mankind's greatest invention is the ability to charge and earn compound interest." I mean, I thought about this and did some math. If you start with 50K with an interest rate of 25%, you can have close to $4.3 million dollars after 20 years. But I have a question. What happens if the economy hits a sudden recession and you get minus (-) investment returns? You see, no one talks about this…right?
One thing I have to say is that I love the way Kris Krohn keeps reminding me how he was able to retire at the young age of 26 because of his real estate investments. But he's always putting out videos, offers, and more. I don't think this guy is retired, and he works more than many of us combined. Some people say he loves to work, which is fine, but on his Instagram, I see a bunch of old cars. This strikes me as odd, especially when my next-door neighbour is a nurse and drives something more expensive than Kris. I bet Kris Krohn's net worth is much lower than you think. Let's continue,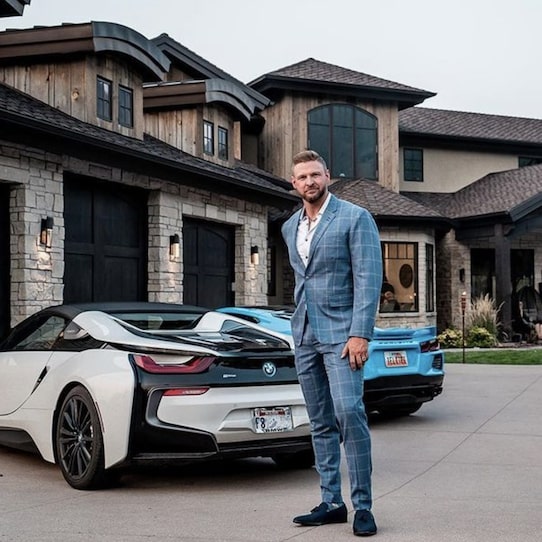 But I want to give Kris the benefit of the doubt because maybe he reinvests his money into real estate…who knows! The next thing Kris says in his sales video is the following: "I have done over $1 billion over the last 15 years selling single-family homes with my average ROI being 25% annually." Kris claims to have improved over the years, so he expects his numbers to keep growing with higher ROIs. When I went further into his video presentation, I guess Kris is saying you will double your money every 3-4 years, which NO retirement plan can provide for you. If you are wondering how you can get a piece of this action, Kris says he has a team working for him who can find and purchase real estate in the best markets. The fact they can do this means they will be able to get you consistent returns of 25% to 30%. Here comes the sales pitch. "I don't have enough partners to take all these deals off my hands which has become a huge problem for me," says Kris. You see,
Kris is saying there are around 15-20 homes I have to pass on because I don't have the manpower to help me out. Also, I need someone to help me to get the downpayment together for these deals. Here's how funny he is. He says you are eligible to be his partner if you have thousands of dollars you can give Kris. The process is simple…
You join Kris, form a company, and get 50% equity. Kris will find all the deals and manage everything, like tenants. You will be the silent partner since you are supplying the dough. You must be a long-term thinker to make waves, which is essential to Kris. You will also need around 50K to throw at this project, and if he can get you a 25% return on your investment, it may be a good deal. I have a few questions. First, what happens if you give him your money and he can't make your money back…then what! Kris can say sorry, and that's the end…I would stand clear because it's a significant investment, and you can lose a large sum on a lousy investment.
TRENDING: Invest In Internet Rentals Instead