The 30-Day Deal Challenge (Cody Sperber)This guy named Bill Allen created a program called 7 Figure Flipping and Blackjack RE. However, he is a lot more like a pilot, father, real estate investor, podcast host, mentor, and even author of a book called 7 Figures Flipping Underground. So, I'm on a mission to find out if this book is REAL or just a fluff PDF full of lame claims, etc. By the way, this book is a FREE + shipping offer, so I decided to get it and write an honest review about the entire training program. So, here it is…
So what is the promise of the book? Well, it's to LEARN how to make money wholesaling and flipping houses without having to risk your own money or your own time. Bill Allen says you won't have to sacrifice your weekends! And, He will guide you along the way to each one of your deal-making destinations. For example, this guidance includes finding off-market properties, analyzing them to ensure they are the RIGHT fit, negotiating the BEST price for them, and even getting funding. You will also LEARN the renovation process and how to sell them for massive profits…it's impressive. It's a rinse-and-repeat process! As a matter of fact, Bill claims he's done it, and so have hundreds of other students, so why can't you NOT get started? Of course, you can, and all you have to do is follow his advice.
In the end, his advice is for those people having trouble growing their business from a part-time operation to a full-time operation. In a short video Bill created on 7FFBook.com, he asks the following question: "Are you having trouble even getting started and needing some direction?" For example, if you feel like you should be closing deals but are just stuck in a loop, his program is right for you. Not only that, try and answer the following questions: Are you having trouble marketing, finding deals and raising money for your business? Do you know how to fix homes to maximize profits? Do you also have trouble adjusting to the current market trends? If you answered "YES" to answer of these questions, then Bill has the RIGHT training for you. Now, before going further, let's explore who Bill Allen is and how he got where he is today…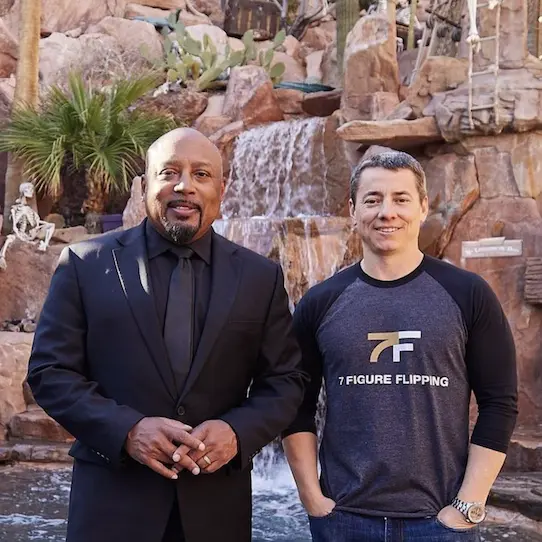 Bill started flipping homes in 2014 and remembers how he had trouble closing multiple houses and was barely doing one (1) house a year. However, in 2016 his luck completely changed because he has done over 750 flips and wholesale deals. He has put everything he learned and all of his experience into the book he is promoting. Bill continues to say, "I had to learn the hard way, so you don't have to" So, Bill's book claims to have all the answers you need to help you transition from where you are to where you want to go. It's an underground book (a playbook) where he teaches you everything he uses inside of his 7-Figure Flipping program. He uses these EXACT methods to grow their business. With that said,
Bill says that through his book, you can close more deals and make more profit. There are enormous years of experience and lessons in this book. Bill believes that 1 lesson can earn you profit; however, if you can implement other strategies, you will be able to EARN even more. The main objective is to give you a chance/opportunity to grow your real estate portfolio. However, in the end, just like everything, this is a limited-time offer where Bill is giving away his book for FREE. So, how do you take advantage of this offer?
So, you know it's FREE, but you have to pay $7.95 for shipping and handling. And there will be courses and other training programs sold to you afterward. These are known as upsells! Also, when you buy the book, you get other stuff, like a digital handbook, an off-market deals starter pack, done-for-you documents, etc. So, I think it's all worth it, but you be the judge!
Here are some diamonds inside the book which I can tell you about. First, on page 61, you will LEARN 8 massive mistakes flippers make, costing them enormous money. Then on page 143, Bill Allen will tell you 7 things you have to bring to the seller appointment to make you a legit businessman. Next, on page 173, you'll get Bills undercover 3 funding sources you can use to cover your deals' costs. These funding sources can be used, so you don't have to use your money. Finally, on page 224, how a library card almost lost Bill $600k and how this CAN affect you too. So that's it..what do you think? If you are still concerned and think this may not be the right program, below is a link to My other Favorite Program.